Log Houses
Log Houses
Nowadays, the popularity of log structures is considerably growing. People are becoming more aware of the advantages offered by living in a
wooden house
. The main construction material used for wooden houses is timber, namely big beams. The beams are joined together to form walls and ceilings. The method of construction and its duration differs depending on the applied technology. The properties of
log
structures markedly exceed those offered by silica structures. Wood is distinguished by a number of outstanding characteristics. It is the most ecological construction material that combines in itself bearing as well as insulating functions. Thanks to its ability to regulate moisture, it creates a pleasant environment inside the
log house
, especially for persons with increased respiratory demands. A wooden structure has a beneficial effect on its inhabitants, they feel pampered and relieved of stress.
Log structures have a very low energy demand as regards heating, which makes them highly energy efficient. Energy savings may reach up to
50%.
The thermal and insulating properties of the wood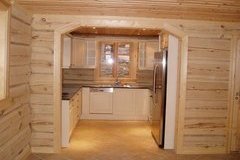 used for the construction of log houses minimise the use of other insulating materials. As a result, the costs are lower, the construction is faster, and the impact on the environment is considerably reduced. Moreover, energy savings may be further increased by combining modern, environmentally friendly heating methods. When constructing a log house, we use the traditional
Canadian
or
Norwegian technology
, as well as a technology utilising logs that are naturally rounds on the outside and in the joints but flat on the inside. Compared to classic log houses, homes built with the aid of this technology offer a more practical living space and a more conventional appearance. With the appropriate construction method and the skill and experience of our professionals, the completion of a log house may be achieved in a very short time period. Structures built from solid wooden components require technological interruptions. The length of these interruptions is directly dependent on the type of wood used for the construction.
The massive beams of log houses always make an unforgettable impression on their inhabitants. Log structures posses a specific charm, the house interiors are fully dominated by wood. The innate properties of this traditional material affect the environment and the life inside a log house. A major advantage of a log structure is its rather easy maintenance and its life, which may reach hundreds of years with the appropriate construction design and proper maintenance.
Choosing a log house is not only about choosing a healthy style of living, it is about expressing your life style.
As each log house is unique, we do not offer catalogue houses. A true log house has to be a genuine original designed and built only for you!