House Standards
Standards of Log Houses by Monivet s.r.o.
Our company builds
log houses
that meet the most demanding requirements in terms of their cost and energy efficient use. We use well-proven construction technologies and materials the properties of which increase the use value and the quality of our
log structures
. We choose our materials with the aim to minimize the impact on the environment.
Rough Structure
When the construction of a rough structure is ordered, the price of which starts at
CZK 8,500
per square metre (depending on applied technology), we secure the manufacture of the
wooden structure
, interior partition walls and the roof construction, transport to the construction site, assembly, preparatory works for sanitary and technical installations and mains, preparatory work for subsequent impregnation and sanding, as well as joint insulation.
The price of turnkey
log house
starts from
CZK 25,000
per square metre in the standard according to the used technology and selected type of wood. We are able to manufacture and deliver the house kit within 3 months (depending on the dimensions and structural technology).
Foundation Slab Construction
B20 - B25
concrete is used for the casting of the foundation slab. Welded reinforcement mesh is used as bottom and top armature.
STYRODUR
insulation boards are standardly placed under the top reinforcement layer as integrated thermal insulation. When the casting of the foundation slab is finished, a technological interruption is necessary to allow the concrete to harden (usually 28 days). After hardening, the foundation slab is covered with
ROOFTEK PRO ALU MINERAL
anti-radon insulation and
Glastek 40 Mineral
hydro-insulation layers.
Standard foundation slab construction works also include a survey aimed at detecting pathogenic zones and radon measurements.
Interior and exterior walls of log structures differ depending on the applied construction technology.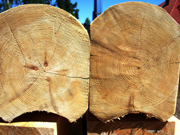 Norwegian Technology
The key construction components, which form the interior and exterior walls, are
prisms
. They are logs that are cut on two sides. The exterior and interior wall of the log house is flat and naturally rounded in the joints. The prism width is
200 mm
. Logs with width ranging from
280 to 500
mm are selected for these construction components. Prisms are definitely a revolutionary component used in the construction of log houses.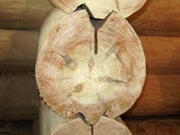 Canadian Technology
This technology is characterized by the use of round logs made from tree trunks. The components are naturally round-shaped and they serve as both bearing and insulating elements. Logs with a width ranging from
280 to 500 mm
are used for their "production". The logs may be used immediately after manual bark removal. Round timber is a traditional component used for the construction of
log houses
.
Russian Hook Technology
This technology is characterized by the use of components that are naturally round on the outside and flat on the inside. The Russian hook technology is a technique of hooking overhanging logs together in the corner. It is a more complex method as it uses round
logs
with a basic plug and hewn interior walls. It is rather demanding and requires a high level of carpentry craftsmanship.
Logs
with a width ranging from
280 to 500 mm
are used for component production.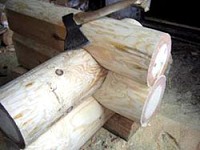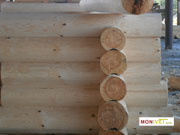 VISHERA Modular Glulam Beam Technology
Another technology used by
Monivet - Tajga s.r.o.
is the glued laminated (glulam) beam technology. It is a brand new technology, the main advantage of which is the absence of a technological interruption that is otherwise required for the log structure to properly settle. The technological interruption in case of a house built with the aid of the Canadian technology is 18 months. On the other hand, with the glulam beam technology, you may move into your house immediately after its completion.
The basic construction element is a glued laminated (glulam) beam, which is available in three sizes:
212x186 mm
,
169x186 mm
, and
126x186 mm
. The laminas used for the manufacture of glulam beams are made of fir from the northern regions of
Russia
. The laminas are glued together using environmentally friendly Casco Adhesives produced by
AkzoNobel
(Sweden).
Naturally, the time necessary for the own construction is considerably shorter. For example, the speed of construction with the use of the Canadian technology is approx.
1.5 m3
per shift compared to
3.5 m3
when applying the glulam beam technology.
This means that four people may build a house with an area of
200 m2
in just
20 days
!
Interior Walls
The interior non-bearing walls of the
log house
, i.e. partition walls, are erected according to the client's requirements. Below you may find wooden partition walls the material of which does not interfere with the house interior. They are standardly insulated with
ISOLENA
sheep wool, which serves as thermal and noise insulation. It helps maintain a pleasant climate inside the
house
thanks to its excellent properties and is also anti allergic.
For your illustration, we have added an photo of somewhat untraditional, yet frequently sought-after technology, which preserves the bottom widening parts of the tree trunks. The
log houses
constructed with the use of this technology are quite unique. The technology is largely used in woody regions.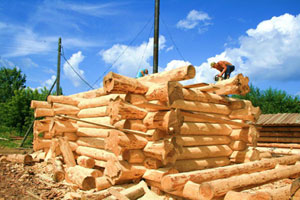 Wood Types
We have chosen the
Russian taiga
as the primary source of the suitable
logs
and
wooden construction
elements. The taiga offers an abundance of perfectly straight tree trunks with ideal spiral grain. The rich production of trees allows us to select the most appropriate components for the construction of a
log house
. We largely use larch and pine trees due to their high quality structure and minimum number of knots.
Wood Protection
We use a variety of
KREIDEZEIT
preservative coating and care products to protect the wooden components of our structures. These include natural oils and waxes that provide both surface and in-depth protection. All wooden components are first impregnated with Bochemit boron salt. The base oil coat is then applied and finally, the top pigmented oil coat is applied which also provides UV protection. Kreidezeit base oil is mainly made with the use of flax seed varnish and balsamic turpentine oil. The final topcoat oil is mixed with colorants for which we use only high quality baked earth and mineral pigments. After
7 years
, the wooden structure is finally impregnated by applying another top layer with pigments whereby the shell of the
log house
is permanently protected. In case of pure wood flooring, we use hard floor oil. It penetrates well into the base material, protects the wood against dirt and dampness, and it offers high mechanical resistance. Interior and exterior walls are impregnated with natural oils. There are several types of natural oils for interior and exterior use. When used in the interior, natural oils are complemented with natural wax. In case of your interest,
KREIDEZEI
T offers a wide pallet of pigmented glazes that may be combined to achieve the desired shade of your
log house
. We standardly use the
Red Pine
, which is an ideal shade for pinewood.
| | | |
| --- | --- | --- |
| Application of the priming coat | Rear side without coating | Continuous colour monitoring |
Wall Insulation
The most suitable thermal insulation for log houses is
ISOLENA
, which is made of sheep wool. It is installed in a thin layer between the individual logs forming the walls. This natural and ecological material made of treated sheep wool offers outstanding thermal and insulation properties and it is anti allergic. As it contains protein fibres, it is safe for human health and it is not necessary to wear a respirator when working with this insulation material.
Advantages of ISOLENA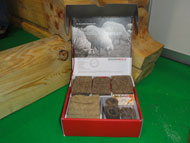 As regards various natural materials, sheep wool definitely deserves special attention. Compared to other fibre materials, it is easy to handle. Wool is genuinely flexible and it expands to its original size after being pressed, which makes it ideal for sealing even very irregular openings. In a multi-layer insulation system, wool may be also used to regulate the level of humidity in the interior. Nevertheless, the primary advantage of wool is that it is the only material the production of which is friendly to the environment and has no negative impacts.
Installation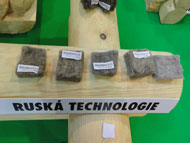 Sheep wool applied in an even layer is ideal for insulating large surfaces. Instead of a single thick layer, it may be applied in multiple layers, e.g. if one layer is 4 cm thick, three double layers may be added from the outside and thus, the total thickness may reach up to 25 cm. Clippings or leftovers from production may be used for sealing small crevices and hollow spaces.
Pest Protection
In order to protect wool against pests, its fibres are treated with a synthetic analogue of a naturally occurring insecticide (i.e. pyrethroid), which prevents moth infestation. Pyrethroid remains permanently on the fibre surface without penetrating into the surrounding environment. Objections claiming that wool may be eaten by mice are unsubstantiated as rodents are unable to feed on wool or other insulation materials.
Flammability
Wool is the least flammable of all currently used organic insulation materials. For reduced flammability, wool fibres may be treated with such retardants as ammonium phosphate.
Improperly Installed Insulation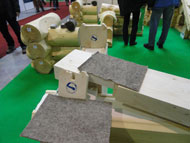 When exposed to moisture, some organic materials may be infested by fungi. It should be noted that no construction insulation material (unless designated for underwater insulation) should be exposed to moisture. Admitting such possibility would be the same as accepting lousy construction work. If, nonetheless, moisture from the heated interiors penetrates into the insulation as a result of a gross technological error, wool presents a major advantage: almost one third of the fibre mass may comprise the absorbed moisture and only after this volume is exceeded, water will begin to condensate on the surface of the fibres and aggravate their insulation properties. In this sense, sheep wool is a fibre material, which is extremely resistant to construction errors. Therefore, the warm section of the insulation in front of the moisture stop is able to effectively regulate air humidity in the interior.
Log House Roof Construction
House without 2nd Floor
Roofing –
BETA
concrete roofing tiles in the basic price range with accessories for valleys, hips, ridges, and ventilation elements. Other accessories are not included in the price. Counter and lateral lathing,
Jutafol
roof foil for diffusion roof underlay.
Windows, winter gardens and balcony doors
Wood euro windows, length-linked prisms in northern pine, with triple transparent glass, without grids, four-sided fittings -
Geus Benešov
Velux
GGL roof windows
External window sills – galvanized iron or Lindab -
Geus Benešov
Internal window sills – wood/plastic -
Geus Benešov
Window roller and slat blinds are not included in the price
Main entrance door and garage door -
Geus Benešov, LOMAX
Interior doors -
Geus
Main entrance and interior doors -
Geus
Interior doors –
Aldi
Flooring
First floor: 180 mm - dry
Rigidur
flooring system, 2x60 mm
Styrodur
board thermal insulation, floor heating system (
NOBO heating cables
) or water heating, 10 mm floor covering.
Second floor: 35 mm board ceiling, 200 mm
Orsil
insulation (2x10 mm crosswise hardboard), 20 mm
Rigidur
gypsum-fibre board.
Third floor: the attic board ceiling is not included in the price.
Floors -
Aldi
Rainwater Pipes
The roof gutters and rainwater pipes are made of galvanized iron or copper (Lindab). The delivery does not include connections to the storm sewer system.
Wall and Floor Tiling
Ceramic wall and floor tiling at the price of CZK
300/m2
without accessory material.
Floor tiles – entrance hallway, bathroom and toilet on the first and second floor.
Floor tiles – entrance hallway, bathroom and toilet on the first and second floor.
Sanitary Ceramics
White with plastic piping
Grey PVC sewer mains
Electrical Wiring
Copper (CU) wiring, selection of distribution box according to the specific house type, double-frame and fire-resistant electrical box, universal white Tango colour, white switches and electrical sockets.
Basic equipment and fittings depend on the individual house type.
Heating
The house is heated by means of a
Hotjet
air-to-water heat pump with a
Siemens
control unit in combination with an electric boiler and floor heating. Upon the client's request, standard panel radiators may be installed and/or the heating system may be replaced with an electrical heating system, a gas heating system or solar panel heating system. The price of the house does not include a fireplace.
We also offer a rainwater retention system, which allows further use of rainwater captured in an underground plastic or concrete tank.
In addition, other than standard construction materials, heating systems, fittings and equipment may be used according to the client's wishes.
All used construction materials have been duly certified in terms of quality and safety to health.